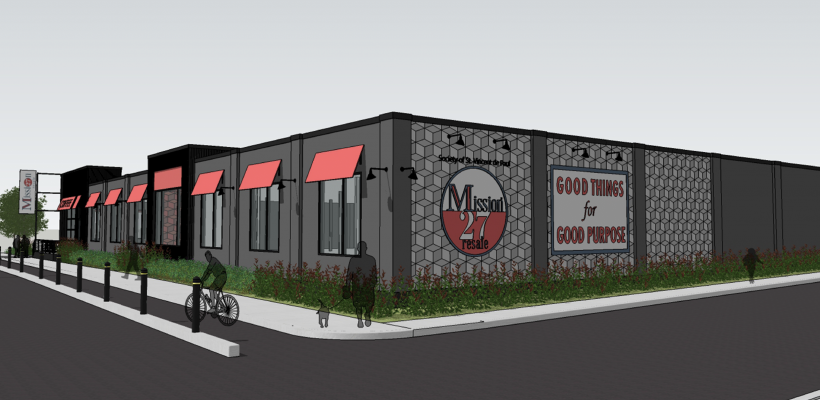 Mission 27 Resale to Open Second Location South of Fountain Square this Fall
(INDIANAPOLIS)— Mission 27 Resale, a local faith-based thrift store, will soon open a second location offering more Good Things for Good Purpose™at 1618 South Shelby Street just south of Fountain Square in Indianapolis. The store will feature secondhand and gently used items including vintage apparel, furniture, home décor and one-of-a-kind finds. And like the existing location at 132 Leota Street, proceeds from Mission 27 Resale, will fund the Society of St. Vincent de Paul food pantry & Changing Lives Forever program, which teaches people how to become economically self-sufficient so they can break generational cycles of poverty.
Since the first Mission 27 Resale location at 132 Leota Street – just east of downtown – opened on October 15, 2016, it has grown into a successful retail operation, and now the organization is ready to expand its reach to do more good. "Extending our reach and expanding our footprint excites us as we seek to connect with and serve more people in our community. Donating to and shopping at Mission 27 Resale is a terrific way to not only find unique items for less and help treasures find new homes, but the profits benefit the programs that lend a hand to some of the most underserved in our community," said Peter Zubler, Executive Director for the Society of St. Vincent de Paul. "Our staff and volunteers are gearing up for the new store opening, and we appreciate the community partners, including contractors, service providers, and others who continue to help us along the way as we seek to further our mission – giving new life not only to items, but also to those in need."
The new store at 1618 S. Shelby Street location is set to open in early fall. Renovations are underway on the formerly vacant 12,000 square foot warehouse that sits on the eastern edge of the Bates-Hendricks neighborhood – just south of the interstate 65 overpass. Projected to open in early fall, the store hours will mirror the current location and will be Monday through Friday, 10 AM to 7 PM and Saturdays from 9 AM to 5 PM. Both stores are closed on Sundays.
"The Bates-Hendricks neighborhood is undergoing revitalization efforts, and we're excited to be a part of that transformation. With growth in Fountain Square and the nearby Garfield Park and the red line public transit route nearly complete – the area's economic revitalization is something we're grateful to be a part of," said Zubler.
The new Shelby Street location is near some lower-income neighborhoods, giving local residents greater access to a place where they can get needed household items such as clothing, appliances, etc. at deeply discounted rates.  It's location near the future Red Line will make it accessible and convenient for customers and will feature an in-house coffee shop. The partnership with a local coffee vendor is still in the works, but will soon be announced, and will offer a place for people to gather and be neighborly.
"We're looking forward to growing with this community and serving a diverse customer base. The build out is coming along nicely, and we are preserving some of its industrial elements, such as the exposed beams. We have even taken some of the spray paint graffiti art from the exterior of the building and created canvases to display the art in our store," said Mark White, Director of Retail Operations.  "Watch for the announcement of our grand opening in the coming weeks. We would love to see you there."
SHOP
Whether you shop, donate goods, make a financial contribution or volunteer, you're an integral part of helping Mission 27 Resale further its pursuit of caring for the poor in our community.
Our new store will feature sections for furniture and home goods, clothing for men, women and children including shoes, jewelry and accessories. It will also have books, toys and games.
Proceeds from store sales will help supply the Society of St. Vincent de Paul's 30thStreet Food Pantry with higher quantities of nutritious food choices. Proceeds are also used to fund our Changing Lives Forever program, which teaches people how to become economically self-sufficient so they can break generational cycles of poverty.
DONATE
Your donation helps us start to change the lives of the some of the most vulnerable in our community.There are a number of ways to donate online, and physical donations of gently used clothing, furniture, home décor, housewares and appliances are greatly appreciated.
While the new location will accept donations, donations are encouraged at the current location, located at 132 Leota Street in Indianapolis – just east of downtown.
CONNECT
Follow us on Instagram and Facebook @mission27resale. You may also shop our eBay store – Mission27Resale – to find some of our more selective, high-end items.
For more information about the new Shelby Street location, visit mission27resale.org or call 317-687-8260.
###
About Mission 27 Resale
Good things for a good purpose—that's what we're about at Mission 27 Resale. Run by the Society of St. Vincent de Paul, our thrift store provides a variety of items that are upscale in quality and look, but not in price! Because we receive so many one-of-a-kind, designer pieces, our inventory moves fast and is constantly changing. Best of all, our customers can feel good about shopping with us—every purchase goes toward funding the Society's food pantries and Changing Lives Forever program, which teaches people how to become economically self-sufficient so they can break generational cycles of poverty.
About the Society of St. Vincent de Paul Indianapolis
The Society of St. Vincent de Paul (SVdP) Indianapolis is part of an international organization of men and women joined together in spiritual growth through service to those who are in need and suffering. Believing people are all created in God's image, we offer assistance with empathy, trust and friendship, while preserving the utmost dignity and confidentiality.
SVdP also offers special programs to help people determined to change their circumstances rise above generational poverty. Our Changing Lives Forever program provides opportunities to learn how to build a sustainable, stable lifestyle, free from the challenges that come with being in constant need.