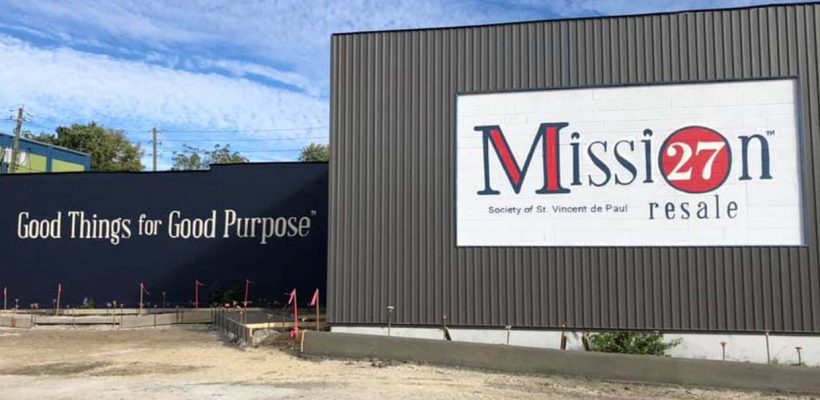 Mark your calendars for November 23! It's a big day for us at Mission 27 Resale as it is the Grand Opening of our second retail store! You'll soon have two places in the Indianapolis area to get one-of-a-kind finds while supporting the work of the Society of St. Vincent de Paul Indianapolis Council.
Our second Mission 27 Resale is located on the edge of the Bates-Hendricks neighborhood at 1618 Shelby Street. Fountain Square and nearby Garfield Park are experiencing steady growth, and the people who live here love their community and are devoted to making it even better. All of this makes for a great neighborhood and an exciting place to be!
When you visit our store, you're sure to find lots of secondhand and gently used items that are unique, including vintage apparel, furniture, home décor and a lot more. But, remember, at Mission 27 Resale, we are about more than just giving new life to used items. We're about giving a better life to those in need. It's what we like to refer to as, "Good Things for Good Purpose." That's why proceeds from our stores help fund two of the Society's vital community programs:
Food pantries, enabling us to provide higher quantities of nutritious food choices
Changing Lives Forever, a transformational program that aims to help people become economically self-sufficient
In addition to shopping, there are a few things you'll want to check out when you visit our Shelby Street location. One of the coolest things is the artwork. We took painted graffiti art from the exterior of the building and integrated it on canvases inside the store. There are also custom-painted exterior murals provided by the Urban Artist's Network. Finally, we've preserved many of the industrial elements from the former warehouse space, such as exposed beams and brick. Everything about this store is unique—just like Mission 27 Resale.
As we prepare to open our doors to the public, we'd be remiss if we didn't thank the many contractors, service providers, neighbors, donors, volunteers and newfound friends who have gone out of their way to help us. All of you are an integral part of helping Mission 27 Resale further its pursuit of caring for our community.
Grand Opening
Saturday, Nov. 23, 2019 from 9 a.m. to 5 p.m.
Normal Store Hours
Monday through Friday, 10 a.m.  to 7 p.m.
Saturdays from 9 a.m.  to 5 p.m.