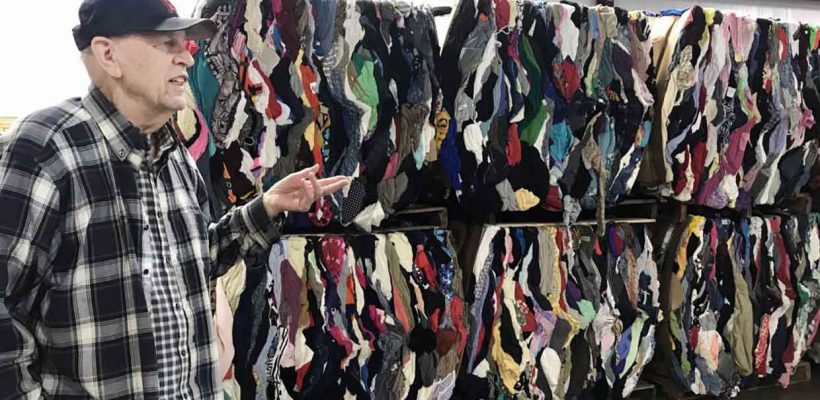 Our mission comes alive in the community every day because of dedicated individuals who serve at Mission 27. They are the hands, feet and faces of Mission 27—and they carry our purpose in their hearts. We're grateful for every time we get to interact with them, and we think you'll enjoy "meeting" them, too. In this blog, we introduce you to Jack Warner, one of Mission 27's most dedicated volunteers.
How did you come to volunteer with Mission 27?
I came to Mission 27 after retiring from Kroger. I wanted to stay active and lend a hand. First, I tried volunteering at the food pantry, but learned I liked serving at the Society of St. Vincent de Paul and Mission 27 better. As a volunteer, I operate the compactor or baler, which is familiar as I also used the compactor in my work with Kroger.
After other volunteers sort through donated items like clothes, blankets and belts, I take the items we aren't using in the store and place them in the compactor. When the compactor is full we make a bale, which will eventually be sent to another state or country.
What's your favorite part about volunteering with the Society of St. Vincent de Paul and Mission 27 Resale?
The people. They are nice, and I enjoy working with them. I've been volunteering here for more than 15 years. Many refer to me as Jack the Baler.
What's one of the most unique or memorable items you've seen come through the store? Or, something interesting you can share from your volunteer experiences?
I don't see everything that comes in as I'm usually in the back by those who are sorting through the clothing donations, but I have seen a piano come through—which was neat.
The bales I make with the compactor contain clothes and other items that we can't sell in the store. The bales weigh a half ton—approximately 1,100 pounds. On some days we fill the compactor faster than others, but I've seen as many as five bales created in a day. We ship these bales off to other places that can use them like Canada or Mexico.
How do the Society of St. Vincent de Paul and Mission 27 impact the community?
Simply put, we help people who are in need. I was here when Mission 27 was created, and it was interesting to see the space transform to include the store. I appreciate how they incorporated the scale into the store design with the scripture: "Let God weigh me in the scales of justice." Job 31:6
Why do you think people should donate to and/or support the Society of St. Vincent de Paul and Mission 27 Resale?
Those who shop here can find good quality used items at a great price, and each purchase supports a good cause.